P I (605) 361-EYES (3937) or (877) 522-EYES (3937)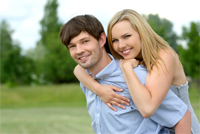 If you are not a candidate for LASIK laser vision correction, but still desire freedom from glasses and contact lenses Implatable Contact Lenses (ICLs) may be an option for you!
ICLs are designed to treat patients who are extremely nearsighted, and for whom LASIK may not be a viable option. An ICL acts like a contact lens that is implanted in front of the iris to improve your vision. And unlike cataract surgery and some other implant procedures, the eye's natural crystalline lens is left in the eye, allowing your focus to easily adjust between objects that are far and near.
Learn more about the ICLs available at Vance Thompson Vision:
Premium Lens Implants
The LASIK procedure is the right answer for most patients who are considering refractive surgery to improve their vision. However, in patients with higher degrees of nearsightedness or farsightedness, the cornea may be too thin to allow full refractive correction.
In these cases, surgical implants may be the best alternative. These special devices are placed in the eyes to improve their focusing ability.