Scroll

Comanagment, or collaborative care of a surgical patient
Our goal is to ensure you have the information needed to continue care when a patient is coming back to your office post-operatively. Important details will be provided via the "Release of Care" form. This document will be faxed to your office on the day the surgery is completed.
The Release of Care includes
Patient Name and Date of Birth

Surgery

Release of Care dates

Impression and Plan

Diagnoses

Treatment Plan

CPT Codes

ICD-10 Codes

Other discussion notes

Specialty Medications

If a patient elects to return to your office for their post-op visits, a 55 modifier should be on the co-managing doctor's claim for postoperative care.
Example: Cataract Surgery (CPT 66984)

Co-managed claim = 66984-55RT or LT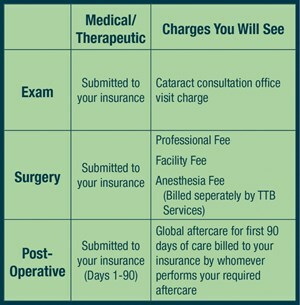 Medical and Refractive Co-Management - Cataract
The Medical or Therapeutic Component: (outlined in the green box)

The first 90 days of postoperative care, known as the global period. Day one starts the first day after surgery. On what date will the 90 day global period end? Click HERE for a day to date calculator.

Visit charges during this time should be submitted to the patient's medical insurance.

These charges should be handled just like you would if you were billing postoperative care for standard cataract surgery.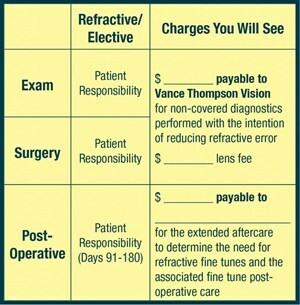 The Refractive or Elective Component: (outlined in the yellow box)

Involves extended aftercare (days 91-180) which is an additional period of time, not covered by insurance, to monitor the results and manage the patient's refractive outcomes.

Our office will schedule the patient an appointment with your office around the 100th day following surgery, which falls outside the first 90 day medical global period.

On June 1st, 2023, we began using CoFi to enhance the patient experience related to payments to Vance Thompson Vision and to the doctor they choose to perform their aftercare.

While CoFi facilitates direct payment to you when patients choose your office for aftercare - and we recommend the platform - you are not required to use CoFi to continue co-managing patients with Vance Thompson Vision. However, now that we have transitioned to CoFi, all aftercare payments are set by the doctor providing the care and collected via CoFi or by the office where care is provided.

If your office participates with Care Credit, your office will also need to run those transactions at this time.
Refractive Co-management - (LASIK, PRK, ICL, RLE)
Fee for Days 1-364 post-operative collected by CoFi or by the office where the care is provided.
Financing Options
Alphaeon Credit is a company that provides patients with a financing option for their LASIK or other elective procedures. Alphaeon features a Budget Pay Plan which sets a fixed monthly payments in addition to their Equal Pay Plan, and No Interest options. Alphaeon Credit has no up-front costs, no annual fees, and no pre-payment penalties.

CareCredit is a company that provides patients with credit for their LASIK or other elective procedures, offering short-term, 0% interest payment plans and low-interest, extended payment plans. CareCredit has no up-front costs, no fees and no pre-payment penalties.